Single anchor point W-BAP 1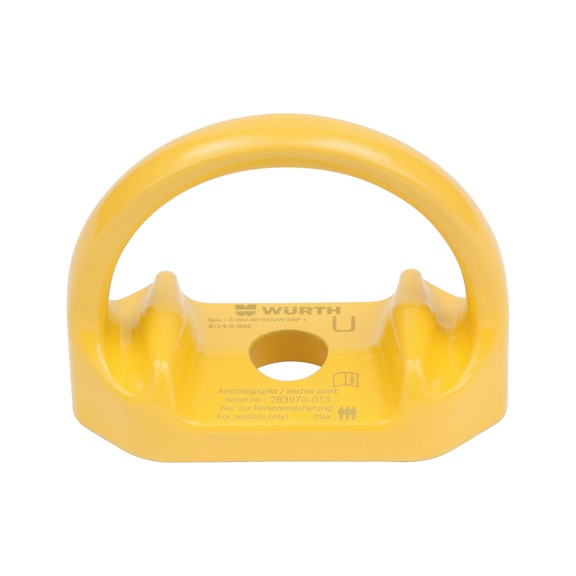 For detailed information, other images and documents, please select individual articles from the following table.
Single anchor point W-BAP 1
Single anchor point for fixing in concrete with DIBt National technical approval Z-14.9-692. Mounting with Würth chemical injection mortar WIT-VIZ and anchor rod W-VIZ-A/A4 M16 (hef 125) or W-VIZ-IG/A4 M16x120 (female thread)
Show availability in Würth trade store
If you have any questions, please call our service hotline at +49 7931 91-0.
You are not yet a Würth customer or do not yet have access data to the Online Shop? Then
register now
in just a few steps. After a successful check of the entered data, you will have immediate access to the stock inquiry as well as all prices and can immediately order.
Exclusively for trade customers
Register now and access more than 125,000 products

Exclusively for trade customers
Register now and access more than 125,000 products
Prices for customers after login
Space-saving


Signal yellow for excellent visibility


Inexpensive alternative to other fall arrester systems


Quick and easy anchor point installation and removal


The load-bearing capacity of the attachment surface must be assured
Notice
Observe the installation instructions and only use approved fasteners


The single anchor point is made of unalloyed structural steel; this must be noted when using in aggressive environments


Single anchor points must be attached to the concrete using the fasteners named in the approval documentation. The approval will otherwise be rendered null and void


Delivery incl. fastening material (anchor rod) but without chemical injection mortar
With general construction permit Z-14.9-692 for concrete and steel
Application area
The single anchor point W-BAP 1 is a Class A/B anchor point in accordance with EN 795


Suitable for securing up to a maximum of 3 persons


The single anchor point can be used to secure persons during repetitive work such as cleaning, maintenance and assembly work etc. and in difficult to access areas with a risk of falling


The single anchor point may be used in reinforced or non-reinforced standard concrete of a strength class of at least C20/25 and at most C50/60 in accordance with EN 206:2000-12 and also in steel
Select RAL-colour code
!! NOTE: On-screen visualisation of the colour differs from real colour shade!!