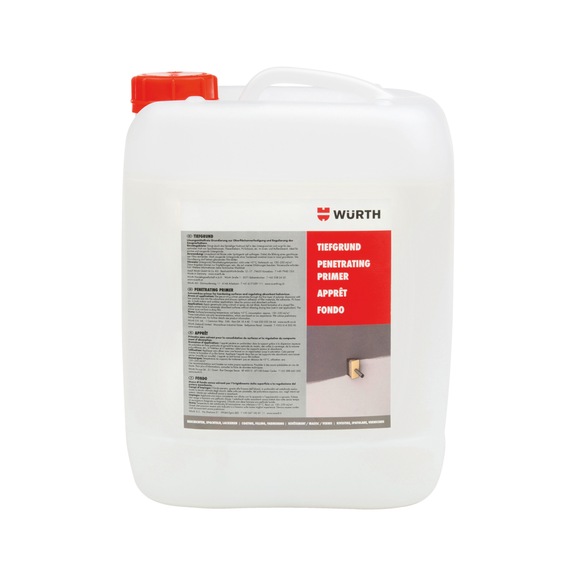 For detailed information, other images and documents, please select individual articles from the following table.
Solvent-free, transparent primer for surface hardening and regulation of absorbency.
Show availability in Würth trade store
If you have any questions, please call our service hotline at +49 7931 91-0.
You are not yet a Würth customer or do not yet have access data to the Online Shop? Then
register now
in just a few steps. After a successful check of the entered data, you will have immediate access to the stock inquiry as well as all prices and can immediately order.
Exclusively for trade customers
Register now and access more than 125,000 products
Exclusively for trade customers
Register now and access more than 125,000 products
Prices for customers after login
Depth action
High penetration due to fine-particle Hydrosol


Excellent adhesive action
Quick drying
Rapidly ready for further work
Weatherproof
Suitable for indoor and outdoor use
Ready to use
Ready for use directly from the container


No mixing necessary


Quick to use
Alkali-resistant
Minimised emissions and solvent-free
Notice
To ensure a good priming effect, do not mix with other painting materials.
EU limit for this product:
Category: H (Wb): 30 g/l (2010)


This product contains < 1 g/l VOC.
The usage instructions are recommendations based on the tests we have conducted and are based on our experience; carry out your own tests before each application. Due to the large number of applications and storage and processing conditions, we do not assume any liability for a specific application result. Insofar as our free customer service provides technical information or acts as an advisory service, no responsibility is assumed by this service except where the advice or information given falls within the scope of our specified, contractually agreed service or the advisor was acting deliberately. We guarantee consistent quality of our products. We reserve the right to make technical changes and further develop products.
Application area
Aqueous primer for surface hardening and regulation of absorbency. Due to the fine-particle Hydrosol, the deep-penetrating primer penetrates deep into the substrate and ensures optimum adhesion of fillers, PU foam etc. to walls, floors and ceilings in indoor and outdoor applications. For use on stucco, plaster and plasterboard, sand-lime brick, tiles and hard burnt brick, concrete and aerated concrete, and slightly chalking but load-bearing existing coatings.
Instructions
The base material must be dry, firm, sound and clean (note VOB part C, DIN 18 363, Section 3).
The primer is ready to be applied direct in an undiluted form using a roller, brush or suitable spraying device. Highly absorbent substrates should be primed twice without any drying time (wet on wet). The primer must be applied such that, after drying, the surface remains matt, i.e. the primer should not dry with a glossy finish.
For more information, please refer to the technical data sheet.
Select RAL-colour code
!! NOTE: On-screen visualisation of the colour differs from real colour shade!!