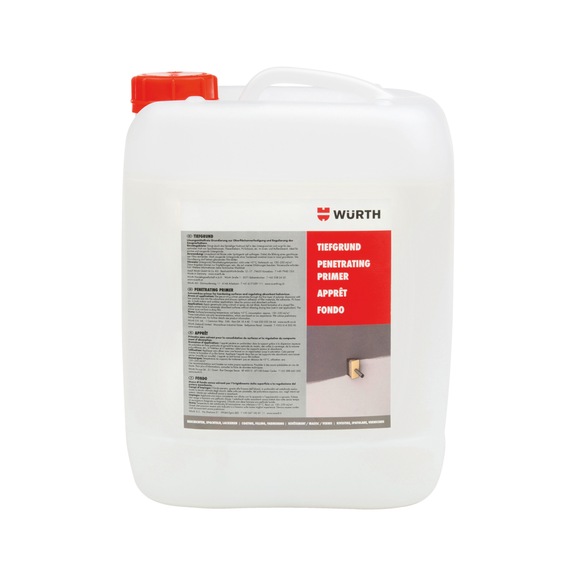 For detailed information, other images and documents, please select individual articles from the following table.
Solvent-free, transparent primer for surface hardening and regulation of absorbency.
Chemical basis: Acrylic copolymer hydrosol
Colour: Transparent
Density: 1 g/cm³
Viscosity/consistency: Liquid
Can be further processed after max.: 8 h
Further processing conditions: at 20°C and 65% relative humidity
Full resilience: 8 h
Conditions for full resilience: at 20°C and 65% relative humidity, 30-mm line

Contents: 10 l
Min./max. processing temperature: 5 to 35 °C
Weight of content: 10105 g
Shelf life from production: 12 Month
Conditions to maintain shelf life from production: cool, dry and frost-free storage area
Min/max. application quantity in weight/area: 100-150 g/m²
Solvent-free: Yes
Exclusively for trade customers
Register now and access more than 125,000 products
Variants
Packaging unit
The packaging unit defines the number of articles in one packaging. In the catalog segment you can choose from different packaging units if a pop-up menu is displayed.
Just leave the field empty if you don't know the packaging unit when directly entering the article number in the shopping basket or when importing with Easy-/VarioScan. The packaging unit will be determined automatically.
Structure of our article number
The article number is made up of the following: VVVVAAABBB
VVVV = 4 digits for prefix number (please note that the first digit is currently always 0)
AAA = 3 digits for dimension part 1
BBB = 3 digits for dimension part 2
Example article number structures:
Example 1: Screw with dimensions of 4x10 mm:
VVVVAAABBB
00574 10 (2 spaces between the 4 and the 10)
Example 2: Screw with dimensions of 10x20 mm:
VVVVAAABBB
005710 20 (1 space between the 10 and the 20)
Example 3: Flat washer with an internal diameter of 6 mm:
VVVVAAABBB
04076
Information on price display
Price per packaging unit (PU):
The displayed price is always in line with the displayed packaging, if the PU is 250 the price for 250 units, if the PU is 300 the price for 300 units.
Price with price key representation (PSL):
The price always applies to a quantity ruled through the price key:
Price for 1 unit
Price for 100 units
Price for 1000 units
Quantity
The quantity shows the number of pieces or units of measure contained in the order or delivery for the respective article.
In contrast to sales packaging and secondary packaging, the disposal costs for chemical-technical products are shown separately. The breakdown of the individual costs can be found on the relevant products and also in the shopping cart, as well as in our
General Terms and Conditions (GTC)
.
Art.-no.
Plus disposal costs -,-- per selected packing unit
Cust. Mat. No.
Exclusively for trade customers
Register now and access more than 125,000 products
Prices for customers after login
Depth action
High penetration due to fine-particle Hydrosol


Excellent adhesive action
Quick drying
Rapidly ready for further work
Weatherproof
Suitable for indoor and outdoor use
Ready to use
Ready for use directly from the container


No mixing necessary


Quick to use
Alkali-resistant
Minimised emissions and solvent-free
The usage instructions are recommendations based on the tests we have conducted and are based on our experience; carry out your own tests before each application. Due to the large number of applications and storage and processing conditions, we do not assume any liability for a specific application result. Insofar as our free customer service provides technical information or acts as an advisory service, no responsibility is assumed by this service except where the advice or information given falls within the scope of our specified, contractually agreed service or the advisor was acting deliberately. We guarantee consistent quality of our products. We reserve the right to make technical changes and further develop products.
Application area
Aqueous primer for surface hardening and regulation of absorbency. Due to the fine-particle Hydrosol, the deep-penetrating primer penetrates deep into the substrate and ensures optimum adhesion of fillers, PU foam etc. to walls, floors and ceilings in indoor and outdoor applications. For use on stucco, plaster and plasterboard, sand-lime brick, tiles and hard burnt brick, concrete and aerated concrete, and slightly chalking but load-bearing existing coatings.
Select RAL-colour code
!! NOTE: On-screen visualisation of the colour differs from real colour shade!!