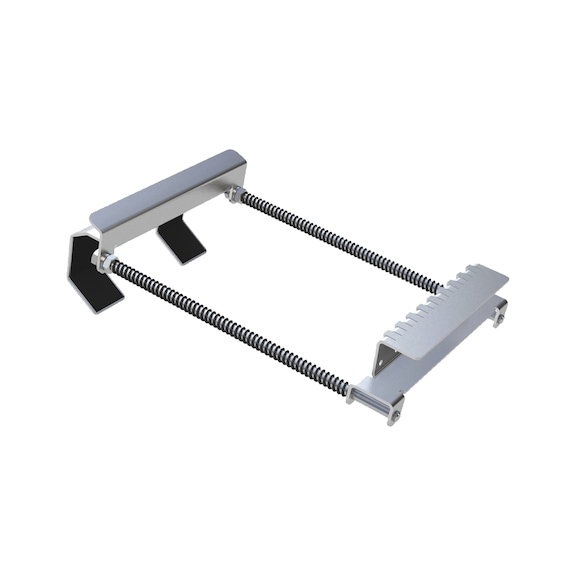 For detailed information, other images and documents, please select individual articles from the following table.
Mobile ladder securing fixture for protection against tipping and slipping
Exclusively for trade customers
Register now and access more than 125,000 products
Exclusively for trade customers
Register now and access more than 125,000 products
Prices for customers after login
Simply clamped between 2 rungs, ABS LaddQuick offers spontaneous protection against tilting and slipping of ladders. Statistically, falls from or when using ladders are one of the most common causes of accidents. Thousands of tradespeople injure themselves every year, sometimes seriously, because their ladders are not stable. If they tilt or unexpectedly slip sideways, injuries and lost earnings are the inevitable outcome. The ABS LaddQuick mobile ladder fixture is the solution.
Our temporary ladder fixture is entirely made of weather-resistant stainless steel. With 2 safety brackets, you can attach the fixture securely to guttering, flat roofs, sturdy fences or railings. The ABS LaddQuick prevents slipping or sideways tilting. The system is simply clamped between the ladder rungs with special springs.
The ABS LaddQuick can be used in any conventional set of ladders with a minimum rung width of 250 mm. The step has a non-slip surface. With its small dimensions and practical clamping mechanism, the ABS LaddQuick is an ideal aid on the job. It can be conveniently transported from place to place.
Notice
Without an additional safety device, there is a risk that a single-section ladder will tilt to one side. Depending on the specific circumstances and the substrate, the feet may also slip to the rear or the sides. This makes it almost impossible to prevent the ladder from falling, with a high risk of injury.
Application area
Temporary ladder fixing, suitable for all standard ladders, prevents tilting or slipping, simply clamped between 2 rungs, rung width min. 250 mm
Instructions
Equip your single-section ladders with this temporary stainless steel securing fixture. The ladder fixture prevents tilting or slipping, the system's stainless steel springs are simply clamped between 2 ladder rungs (width min. 250 mm).
Select RAL-colour code
!! NOTE: On-screen visualisation of the colour differs from real colour shade!!