Carbide burr multi-performance TiAlSiN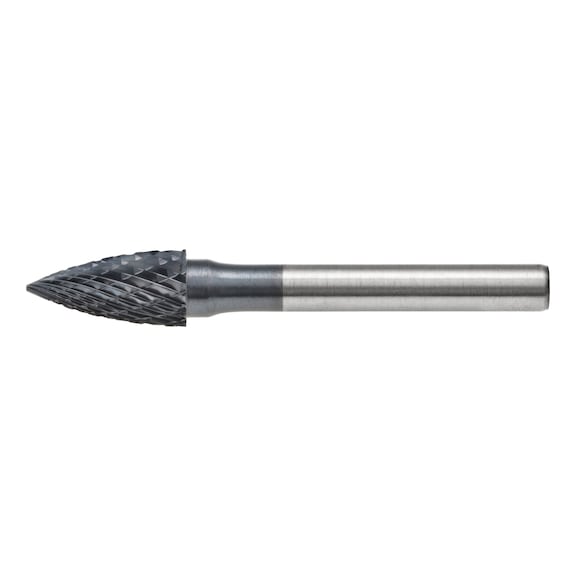 The images are examples. For detailed information, other images and documents, please select individual articles from the following table.
Carbide burr multi-performance TiAlSiN
The premium all-rounder with titanium-aluminium-silicon-nitride coating and unique multi-tooth geometry for efficient roughing and smoothing in a single process on almost all materials, such as steel with a hardness < 65 HRC, cast iron, stainless steel, titanium, special alloys and hard and tough materials (e.g. Hardox). Also suitable for non-ferrous metals, such as aluminium alloys > 10% silicon, magnesium alloys, brass, copper, bronze and plastics.
Show availability in Würth trade store
If you have any questions, please call our service hotline at +49 7931 91-0.
You are not yet a Würth customer or do not yet have access data to the Online Shop? Then
register now
in just a few steps. After a successful check of the entered data, you will have immediate access to the stock inquiry as well as all prices and can immediately order.
Exclusively for trade customers
Register now and access more than 125,000 products




Exclusively for trade customers
Register now and access more than 125,000 products
Prices for customers after login
Innovative multi-tooth geometry with a combination of double cut and fine toothing for a shiny, smooth surface finish, smooth milling behaviour and excellent handling


High-end TiAlSiN coating for up to 3x longer service life compared to uncoated burs with conventional double cut system


Up to 50 % higher cutting performance compared to burs with conventional double cut system


Manufactured in accordance with strict quality standards including full inspection of soldered connections


Sustainable product packaging made of 100 % PCR (recycled plastic from household waste), 100 % recyclable and Cradle to Cradle Certified® Bronze
Notice
Wear appropriate protective equipment when using the sanding tip, such as eye protection, hearing protection and protective gloves. Please note the recommended rotation speed (n) and cutting speed (Vc) for the material being processed as well as the tool/material assignments in the overview tables. Before using the sanding tip, please ensure that the tip rotates properly and that the clamping function on the tool drive works correctly. Do not choose a clamping length that is too small. We recommend a minimum clamping length of approx. 2/3 of the shaft length. Discolouration may occur on the shaft due to the extremely high cutting performance. This discolouration is caused by the extremely high temperature that the tool reaches and does not pose a safety risk. Materials are generally processed in reverse rotation. Suitable tool drives: flexible shaft drives, straight grinders, robots, machine tools.
Application area
Deburring, working contours, surface machining, weld seam processing, shaping, buffing cast iron, chamfering and rounding edges.
Select RAL-colour code
!! NOTE: On-screen visualisation of the colour differs from real colour shade!!