Skin protection lotion Ultra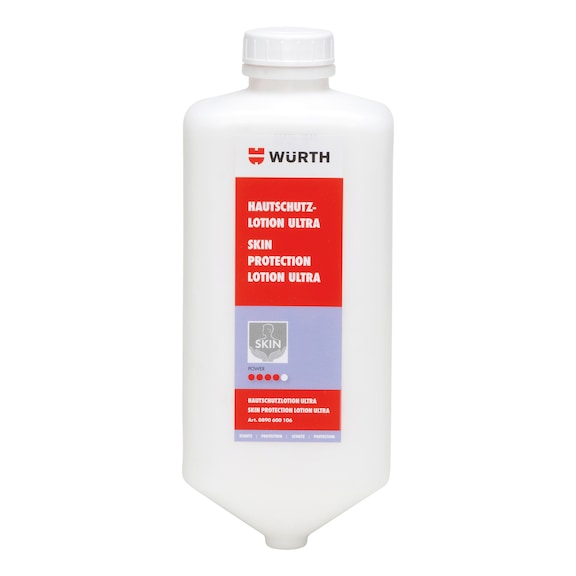 For detailed information, other images and documents, please select individual articles from the following table.
Skin protection lotion Ultra
For SKIN dispenser, art. no. 0891 900 5. Wash-off skin protection lotion to prevent soiling by non-water-soluble substances.
Exclusively for trade customers
Register now and access more than 125,000 products


Exclusively for trade customers
Register now and access more than 125,000 products
Prices for customers after login
Effective protective film between skin and working materials
Prevents adhesion of dirt through dirt-bonding emulsifiers


Skin functions are not affected
Forms a dry, elastic, touch-proof protective film
Non-slip gripping of tools


Leaves no annoying greasy residue on workpieces or tools
Simplifies skin cleaning
Therefore prevents use of improper skin cleaning agents that are a major contributor to many skin diseases.
Leaves the skin feeling fresh
Contains moisturising glycerine and gentle allantoin
Silicone-free and grease-free
Dermatologically tested
Notice
This product is not a substitute for any prescribed protective measures such as gloves or similar items.
Please use the small, pre-punched removable label on the front to identify the contents of your SKIN dispenser system.
The usage instructions are recommendations based on the tests we have conducted and based on our experience; carry out your own tests before each application. We do not assume any liability for a specific application result due to the large number of applications and storage and processing conditions. Insofar as our free customer service provides technical information or acts as an advisory service, no responsibility is assumed by this service except where the advice or information given falls within the scope of our specified, contractually agreed service or the advisor was acting deliberately. We guarantee consistent quality of our products. We reserve the right to make technical changes and further develop products.
Application area
Provides protection when working with oil, grease, graphite, bitumen products, paint, lacquer, adhesives, synthetic resin, polyester, silicone and fibre glass.
Instructions
Before starting work and after washing your hands or after coming into contact with water, rub a hazelnut-sized amount of lotion into clean hands and wait a moment for it to be absorbed.
Select RAL-colour code
!! NOTE: On-screen visualisation of the colour differs from real colour shade!!