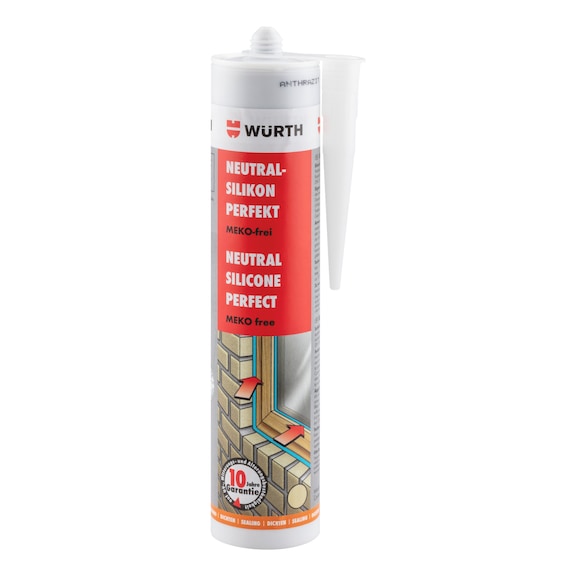 For detailed information, other images and documents, please select individual articles from the following table.
Low-emission, highly adhesive and versatile sealant for expansion joints in indoor and outdoor areas. Specially designed for window glazing and sanitary applications
Show availability in Würth trade store
If you have any questions, please call our service hotline at +49 7931 91-0.
You are not yet a Würth customer or do not yet have access data to the Online Shop? Then
register now
in just a few steps. After a successful check of the entered data, you will have immediate access to the stock inquiry as well as all prices and can immediately order.
Exclusively for trade customers
Register now and access more than 125,000 products

Exclusively for trade customers
Register now and access more than 125,000 products
Prices for customers after login
The silicone sealant is MEKO-free and is therefore classified as low-emission and environmentally friendly and has been awarded the EMICODE EC1 Plus label


Meets the requirements for window glazing in accordance with DIN 18545, Part 2, Sealant Group E


Excellent adhesion to wood, metals and many plastics


Excellent compatibility with most commercially available paint and glazing coatings


Building material class B2 according to DIN 4102


Does not have a tacky surface


High degree of abrasion resistance and good smoothing properties


Permanently elastic


Short pulled thread
Notice
Neutral silicone Perfect is not suitable for adhesive bonding or filling hollow spaces. Due to the large number of varnish and glazing formulations available, always perform your own tests - especially on alkyd resin paints and powder-coated aluminium. Risk of yellowing on contact with white alkyd resin paints cannot be excluded. Colour adjustment: matt. Silicone has a tendency to discolour in dark areas where there is no UV exposure. Avoid contact with VKP tape. Contact with substances containing plasticiser (e.g. butyl/bitumen) can cause discolouration of the silicone.
Cleaning tips:
Wait at least three days before thoroughly cleaning the silicone joint to ensure the sealant is fully cured. Also note: 1. Do not rub or polish dry sealant joints with a chamois leather.


Clean windows only with a damp cloth, preferably with water and a standard non-abrasive cleaner that does not contain solvents.


Use a soft cloth.


Only apply gentle pressure when cleaning (especially when cleaning new joints).


Remove heavy soiling (e.g. soot) from the sealant joint using alcohol.
Meets the requirements of DIN EN 15651 Parts 1/2/3 Sealants for façade elements/glazing/sanitary joints
Fire behaviour: Class E


Stability under load: < 3 mm


Volume loss: < 10 %


Adhesion/expansion under pre-stress after being immersed in water: Passed


Adhesion/expansion on exposure to heat, water and artificial light: Passed


Elastic recovery: ≥ 70 %


Tensile stress value for tensile behaviour: < 0.4 MPa
EMICODE EC1plus: Very low emissions: The EMICODE classification system distinguishes the environmental and health compatibility of construction products. The lowest-emission products bear the EC1plus mark.
The usage instructions are recommendations based on the tests we have conducted and our experience; carry out your own tests before each application. Due to the large number of applications and storage and processing conditions, we do not assume any liability for a specific application result. Insofar as our free customer service provides technical information or acts as an advisory service, no responsibility is assumed by this service except where the advice or information given falls within the scope of our specified, contractually agreed service or the advisor was acting deliberately. We guarantee consistent quality of our products. We reserve the right to make technical changes and further develop products.
Application area
For window glazing and sealing connection joints in wooden, plastic and aluminium windows. Sealing indoor and outdoor expansion joints with high effect of action, such as door, wall, floor, ceiling and window ceiling joints and gutters. Creating a seal between frame and laminated glass.
Instructions
The substrate must be intact, clean, dry and free from grease, rust and water. Do not use in heavy rain. Observe the joint dimensioning. Prime the joints with PE back-fill material, art. 0875... On absorbent and porous substrates (e.g. concrete), priming (silicone primer 0892170) improves adhesion. When using smoothing agents, it must only be used before the skin formation time and must be completely removed after use with a smoothing tool. Excess quantities next to the joint must also be removed immediately. Otherwise staining may occur. Please observe the "General Notes on Application for Sealants" overview sheet. For more information, please refer to the technical data sheet.
Select RAL-colour code
!! NOTE: On-screen visualisation of the colour differs from real colour shade!!