Floor levelling mass CERAfix® 201-2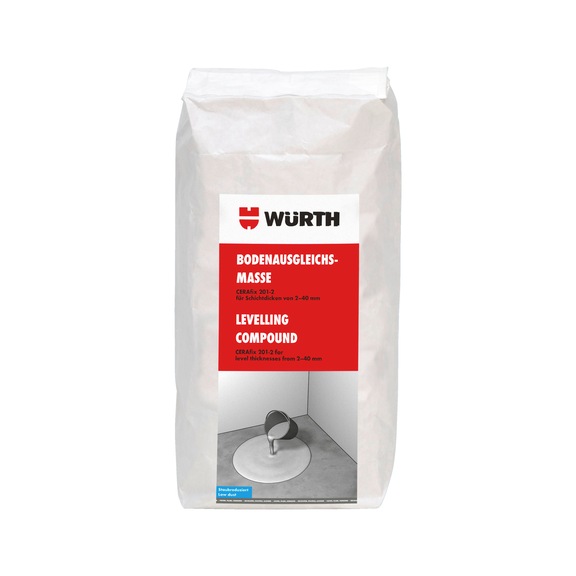 For detailed information, other images and documents, please select individual articles from the following table.
Floor levelling mass CERAfix® 201-2
Low-stress self-spreading liquid cement filler for layer thicknesses of 2–40 mm
Chemical basis: Cement, mineral aggregates, high-quality additives (polymer-modified)
Colour: Grey
Ratio of ingredients: 4.5 - 4.75 l water for 25 kg
Min./max. processing temperature: 5 to 25 °C
Max. processing time: 20 min
Hardening time: 30 min
May be walked on after max.: 3 h
May be walked on in following conditions: at 20°C and 50% relative humidity

Can be covered after max.: 24 h
Full resilience: 14 d
Conditions for full resilience: at 20°C and 50% relative humidity
Min. processing temperature: 5 °C
Max. processing temperature: 25 °C
Application quantity in weight/area: 1.6 kg/m²
Min. compressive strength: 21 N/mm²
Compressive strength conditions: after 7 days, DIN EN 196-1
Building material class: A2, fl s1 - Non-flammable
Weight of content: 25 kg
Contents: 25 l
Container: Paper bag
Shelf life from production: 9 Month
Conditions to maintain shelf life from production: cool and dry storage area
Sustainability: Low-pollution
Exclusively for trade customers
Register now and access more than 125,000 products


Variants
Packaging unit
The packaging unit defines the number of articles in one packaging. In the catalog segment you can choose from different packaging units if a pop-up menu is displayed.
Just leave the field empty if you don't know the packaging unit when directly entering the article number in the shopping basket or when importing with Easy-/VarioScan. The packaging unit will be determined automatically.
Structure of our article number
The article number is made up of the following: VVVVAAABBB
VVVV = 4 digits for prefix number (please note that the first digit is currently always 0)
AAA = 3 digits for dimension part 1
BBB = 3 digits for dimension part 2
Example article number structures:
Example 1: Screw with dimensions of 4x10 mm:
VVVVAAABBB
00574 10 (2 spaces between the 4 and the 10)
Example 2: Screw with dimensions of 10x20 mm:
VVVVAAABBB
005710 20 (1 space between the 10 and the 20)
Example 3: Flat washer with an internal diameter of 6 mm:
VVVVAAABBB
04076
Information on price display
Price per packaging unit (PU):
The displayed price is always in line with the displayed packaging, if the PU is 250 the price for 250 units, if the PU is 300 the price for 300 units.
Price with price key representation (PSL):
The price always applies to a quantity ruled through the price key:
Price for 1 unit
Price for 100 units
Price for 1000 units
Quantity
The quantity shows the number of pieces or units of measure contained in the order or delivery for the respective article.
In contrast to sales packaging and secondary packaging, the disposal costs for chemical-technical products are shown separately. The breakdown of the individual costs can be found on the relevant products and also in the shopping cart, as well as in our
General Terms and Conditions (GTC)
.
Art.-no.
Plus disposal costs -,-- per selected packing unit
Cust. Mat. No.
Exclusively for trade customers
Register now and access more than 125,000 products
Prices for customers after login
Reduces the amount of dust
Good running properties
Easy to apply


Can be pumped
Sets hydraulically
Can be walked on and used within a short time frame


Can be applied in a single work step with layer thickness of 2–30 mm and with quartz sand from 20–40 mm


Reduces downtimes
Contains plastic
High surface hardness


Low tension


Excellent adhesion to all common surfaces
Extremely low emissions - EC1 Plus certified
Suitable for underfloor heating
Notice
Protect the setting product from solar radiation, draughts, driving rain, frost and excessively high temperatures (≥ +25°C).


Material that is already setting must not be subsequently diluted with water.


The product has an alkaline reaction to moisture.


This product is low-chromate according to directive 2003/53/EC-GISCODE ZP 1
Tested in accordance with EN 13813
Fire behaviour: A2 fl


Release of corrosive substances: CT


Compressive strength: C25


Tensile bending strength: F5
EMICODE EC1plus: Very low emissions: The EMICODE classification system distinguishes the environmental and health compatibility of construction products. The lowest-emission products bear the EC1plus mark.
The usage instructions are recommendations based on the tests we have conducted and on our experience; carry out your own tests before each application. Due to the large number of applications and storage and processing conditions, we do not assume any liability for a specific application result. Insofar as our free customer service provides technical information or acts as an advisory service, no responsibility is assumed by this service except where the advice or information given falls within the scope of our specified, contractually agreed service or the advisor was acting deliberately. We guarantee the consistent quality of our products. We reserve the right to make technical changes and further develop products. For further information, please refer to the technical data sheet.
Application area
For compensating uneven floors indoors before laying ceramic, marble, natural stone and PVC coverings, carpeting, floating parquet and laminate etc.
Suitable for untreated concrete ceilings, concrete floors, heated and unheated cement screeds in accordance with DIN 18560, old, securely adhered tile coverings and fast cement screed as well as top surfaces in cellars and on roof floors.
Instructions
In a clean container, mix the levelling compound (25 kg) with 4.5 to 4.75 litres of clean, cold tap water so that there are no lumps in the compound. Give the product approx. 3 minutes to mature and then stir thoroughly again. Then pour the fresh mortar onto the prepared surface and spread with a smoothing trowel or blade to obtain the required layer thickness.
Select RAL-colour code
!! NOTE: On-screen visualisation of the colour differs from real colour shade!!