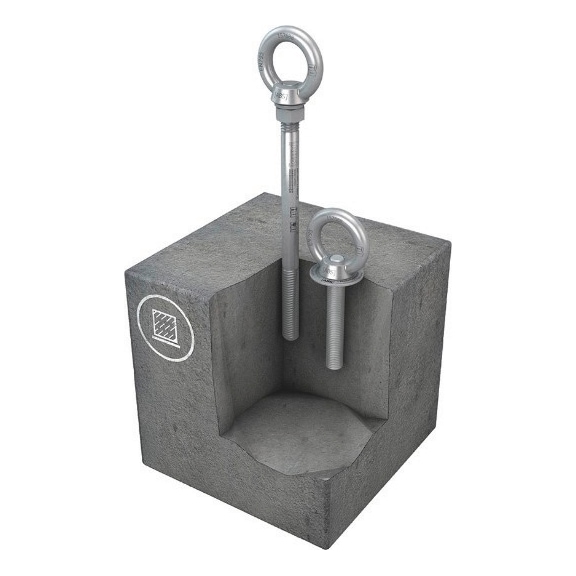 For detailed information, other images and documents, please select individual articles from the following table.
Anchor point for bonding in concrete surfaces
Exclusively for trade customers
Register now and access more than 125,000 products
Exclusively for trade customers
Register now and access more than 125,000 products
Prices for customers after login
The ABS-Lock III-B stainless steel securing device is a real all-rounder: It has been tested under load in every direction and can therefore be mounted in the floor, on the wall, on a façade or overhead without issue. The general technical approval (abZ - allgemeine bauaufsichtliche Zulassung) from the German Institute for Construction Technology (DIBt - Deutsches Institut für Bautechnik) means you are connecting the securing device/anchor point permanently to the building.
The ABS-Lock III-B can be used to set up various holding and catching systems. It can be used as a single anchor point or as a support (wall/façade) in safety harness systems. The 16-mm thick ABS-Lock III-B bends in the case of a fall, to reduce the force on the substrate to which it is mounted. To ensure that the support does not bend prematurely due to necessary pre-tension when used in safety harness systems, an optionally available support tube provides the necessary strength.
Notice
Caution: A support tube is required for use in safety harness systems on walls/façades (corner support or end clamp) with an overhang ≥ 100 mm
Application area
For concrete for cementing into the ceiling or wall.
Instructions
The DIBt-approved stainless steel anchor point (dia. 16 mm) for persons is secured in concrete with two-component mortar WIT-UH-300.
Select RAL-colour code
!! NOTE: On-screen visualisation of the colour differs from real colour shade!!