ABS lanyard Temporary rope safety system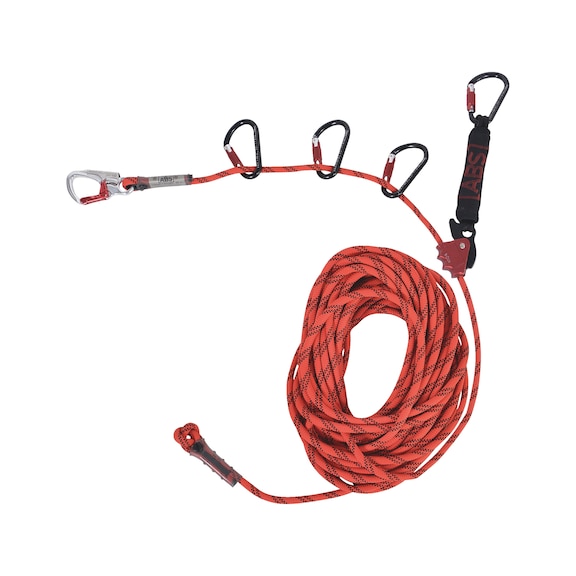 For detailed information, other images and documents, please select individual articles from the following table.
ABS lanyard Temporary rope safety system
Safe thanks to kernmantle rope.
Exclusively for trade customers
Register now and access more than 125,000 products
Exclusively for trade customers
Register now and access more than 125,000 products
Prices for customers after login
The ABS lanyard can be used as a temporary rope safety system for horizontal use on flat and steep roofs.
But the ABS lanyard offers even more
Common arresting equipment usually uses twisted ropes. These are not only significantly heavier than kernmantle ropes, but wear out more quickly because of their tendency to split. The kernmantle rope of the ABS lanyard, on the other hand, is considerably more stable and resistant to wear and tear. Splitting is not possible with kernmantle rope, and because the ABS lanyard takes on significantly less moisture than its twisted polyamide counterpart, it is more weatherproof.
Other advantages of the ABS lanyard
The system is approved for a maximum support spacing of 21 metres, and as the kernmantle rope stretches less than conventional rope in the event of a fall, the fall distance is reduced.
Incl. adjustable rope shortener


Incl. Fall dampener


Secures up to 4 people at the same time


Incl. free threaded snap hook (15 m = 1 unit, 23 m = 2 units, 30 m = 3 units)
Notice
The temporary rope safety system is available in lengths of 15, 23 and 30 m. For optimum performance, use the fastener with the ABS RopeGlide roller glider and a fall arrester.
Application area
The ABS lanyard has been developed to simultaneously secure up to 4 people. One end of the kernmantle rope has a snap hook with screw locking device for easy and secure mounting to stop points. At the other end of the rope is a cable clamp as clamping element. In addition, the ABS lanyard has freely-movable snap hooks for attaching to intermediate brackets.
Select RAL-colour code
!! NOTE: On-screen visualisation of the colour differs from real colour shade!!